Onassis Cardiac Surgery Center Building
The Onassis Cardiac Surgery Center is developed around a central atrium with a total area of 12,900sq.
The building is developed on the right side of the city block and occupies its 2/3, leaving the remaining plot free, so that in the future the OCSC extension building with additional building surface of 7.012sq. can be developed as it has been approved and published in the Government Gazette (No. 30/10.02.2003).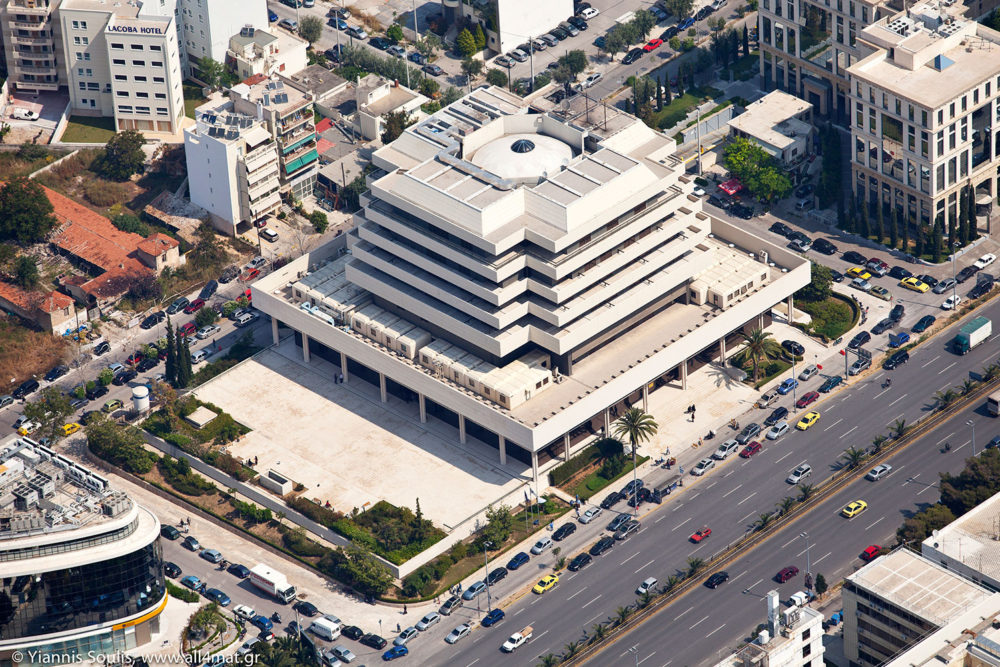 The criteria adopted for the design of the building were:
To serve as a landmark building
To be a sample of modern architecture incorporating elements of classical Greek architecture.
To be a modern cardiac surgery center that can be compared with the best in the world.
Space description
Ground floor (Doiranis street side) featuring the Emergency Department, the supporting facilities of the kitchen, and the laundry as well as locker rooms, storerooms, mechanical installations, electricity substation and two Laboratories (Immunology and Pathology).
Ground floor (Syggrou Avenue side) featuring the Outpatient Department, the Diagnostics Departments, the Central Laboratories, the Administration offices and the Canteen for the service of the public.
1st floor where four Operating rooms, the Cardiac Intensive Care Unit with a capacity of 20 beds, the Pediatric Intensive Care Unit-Pediatric Cardiac Treatment with a capacity of 8 beds, the Cardiology ICU with 8-bed capacity and the Catheterization Laboratory with three rooms are located.
2nd floor where the Central Sterilization, the Medical Library, Physicians' offices, and the offices of the Directorate of Nursing Service are located. Also there is the chapel of Saint Alexander and the Clinical Hematology/ Blood Transfusion Laboratory.
3rd floor where the Mechanical Installations are.
4th, 5th and 6th floor where the hospital rooms and respectively the service rooms for each floor (Doctors office, Head office, nursing stations, etc.) are located.
7th floor where the Chairman's office, the Board's meeting room, the education office and an events hall with a seating capacity of 80 people are located. On this floor there is also, a restaurant.